Outline of Sabo project 2007
Reference
Fujikawa river basin area: 3,990Km2 (3,571.2Km2 excluding Numa river)
Fujikawa Sabo control area: 786.2Km2( Kamanashi river : 277.1Km2 , Haya river : 509.1Km2 )
Summation of river length: 1,660Km (Summation of 493 rivers in Fuji river area)
Average bed slope: Kamanashi river approx.1/2
Fuefuki river approx.1/31
Fuji river approx.1/269
The Fujikawa River Basin Sabo Office is protecting people's lives from sediment disasters by Sabo dams, groundsill, hillside works and other works. Those constructions being operated in harmony with surrounding nature and ecosystem also help create a new environment along the river and stimulate the community.
Basic Landslide Disaster Countermeasures
Control the production and flow of soil and sand from denuded land that includes large-scale landslide scars, and prepare basic erosion control facilities of basin headwaters in order to ensure the safety of the entire basin.
status of landslide scar at Ainodake
Hayakawa-cho
Overall Soil and Sand Management Countermeasures
Work in cooperation with organizations affiliated with rivers and shorelines or the like to perform a survey relating to the quantity and physical properties of sand and soil in all of the basin from the headwaters to the river mouth; prepare open type erosion control dam; and ensure disaster prevention while promoting comprehensive soil and sand management countermeasures that guarantee the supply of soil and sand downstream, throughout the Fuji River Basin.
Steel-piped frame Sabo dam
| | |
| --- | --- |
| Prior to Ishiutoro River 6th Erosion Control Dam and Slit | After Ishiutoro River 6th Erosion Control Dam and Slit |
| | |
| Hokuto-shi | Hokuto-shi |
Comprehensive Landslide Disaster Preventative Countermeasures
Prepare optical fiber for collecting and providing information and cameras for monitoring the flow of soil and rocks as a soft countermeasure to avoid the occurrence of major injury and loss of human life that occurs during a landslide disaster.
Establish Ooharuki monitoring camera(left) Rainfall Information Display Board(right)
Hayakawa-cho
Persons Requiring Support during Disasters
Prepare facilities for preventing landslide disasters in order to protect welfare facilities for those who require support during disasters because they have difficulty evacuating by themselves.
Area to be conserved
HOkuto-shi
New Technologies and New Construction Methods
Work to reduce facility costs and the burden on the environment by using new coarse gravel concrete and erosion control CSG construction methods using soil and sand generated at the facility location.
Fuji River rough gravel concrete construction method
Marusawa No.10 groundsill(Nirasaki-shi)
Natural Symbiosis Model
Implement environmental monitoring andpreparation of erosion control dam that take into consideration the natural environment, ecology, and landscape in national parks or the like.
Hiroiwa Groundsel group
Fujimi-cho
Typical sabo works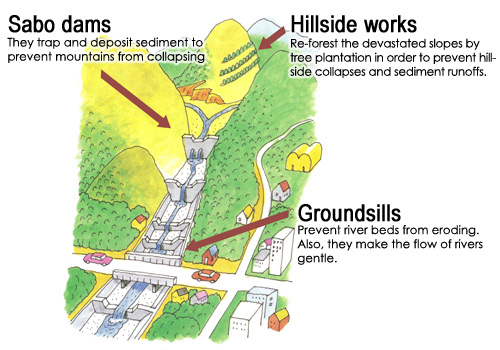 Comprehensive Sediment disaster Preventive Measures
The Fujikawa River Basin Sabo Office is working on the "Comprehensive Sediment Disaster Preventive Measures" in which they are to predict occurrence of debris flows from precipitation,enabling a municipal corporation to take prompt action for evacuation.